Tuesday, June 22, 2010
Baby Button has a Name...
We've finally decided on a name for our little boy. We've been calling him Button for awhile now. I've wanted to name him since we knew he was a boy and Josh wasn't ready. I finally bugged him enough and he broke down and said we could decide! Our little bundle of joy will be known as Grayson Thomas Reynolds. Thomas comes from my dad whose first name is Thomas. I'm sooo excited to be able to call him Grayson, or Gray, and know that that's his name. I'll still call him Button too I think, I've become attached to that nickname. I'm 30 weeks right now, so just 10 more weeks till we meet him. I can't wait!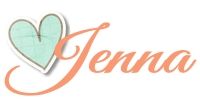 Posted by

Jenna
at 4:42 PM