So today is officially the last day of the 21 Days to Organize Challenge. And I'm just posting Day 10. But it's ok. I'm just glad to be doing it! And I will finish!!!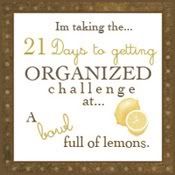 So day 10 is the

laundry room.

Ours is actually a

laundry closet.
I had some messy messy shelves!
Taking all of it out to clean out and organize.
And then I put it back again.
All nice and pretty.
All my stuff is nicely organized according to bin.
Top left- paper towels, middle- laundry detergant (I've stocked up with coupons when they were under $1! That's why I have so many.) and top right- spray paint.
Bottom left is dusting rags, left middle is filled with packets of single load laundry detergent (all which I got for free from either signing up for free samples or coupons), right middle is dryer sheets (again, alot from stocking up with coupons when they're dirt cheap), and bottom right is a cleaning towel and our current bottle of detergent.
Here's a
side by side before and after
(my personal favorite!)
*Side note, the cute sign in the middle of the bottom shelf I made. I got the 8x10 picture frame from a thrift store for $1 and spray painted it. (It was a hideous gold color before, you know the kind!) And I printed the picture
from here
.
Here is a close up of the picture in the frame.

Cute, huh? :)